Easiest Way To Set Up A WordPress Server
In this post we look at an easy way to set up a WordPress server. It may not be the easiest way to set up a WordPress server, but it's definitely one of them.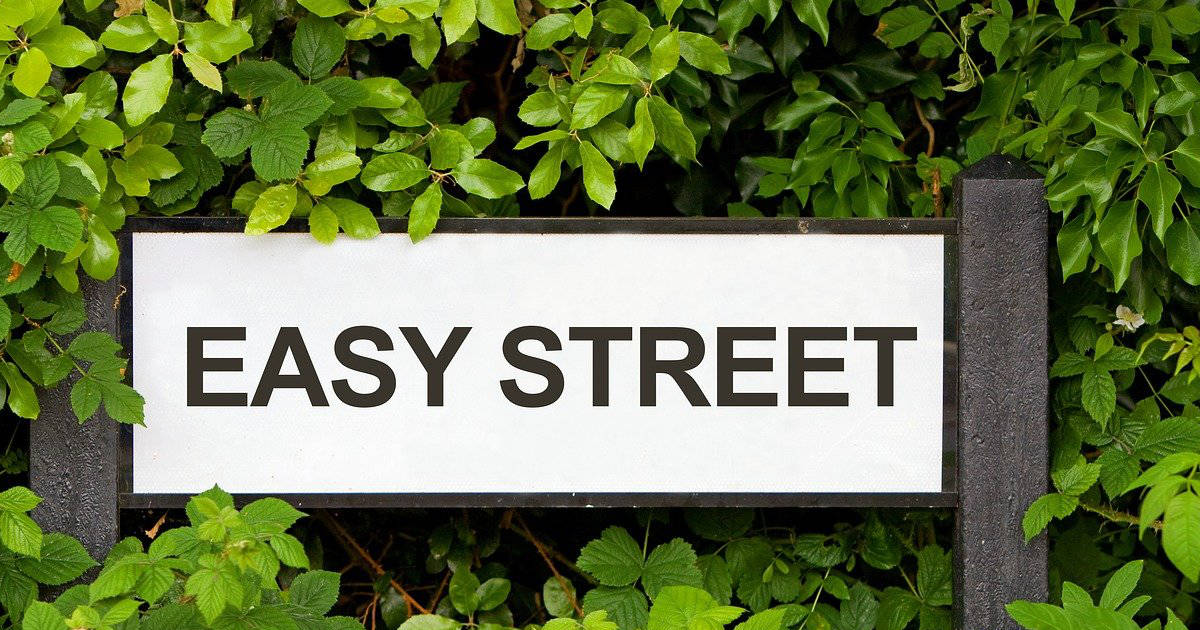 Posted: July 22nd, 2022
By: Steve
Is Running A WordPress Web Server Hard?
These days, running a WordPress webserver isn't all that difficult. The only thing you really have to bear in mind is security – which is in itself a fairly large topic. However, there's a few steps you can take to mitigate that effect and ward off 99% of the evil spirits that will try to take over your website. I'll go into more detail about that in another article.
If security is a big concern for you and your website, you ought to consider a dedicated managed WordPress hosting solution like Rocket.Net because they'll look after everything for you. It costs more per month but if you're running your business from it then it's worth it.
If your WordPress server is a hobby site and you're happy to look after the day to running of it yourself, then this is for you.
The Easiest Way To Set Up A WordPress Web Server
By far the easiest way to set up a WordPress web server that is accessible to the world is to use a VPS image. I use VULTR because their speed is great, their uptime is great, and their admin panel is so easy to use.
There are loads upon loads of other VPS providers who also provide images. Images are basically a pre-installed server, running only the software you need to perform that particular task.
VULTR provide 2 images that work for easily setting up WordPress. The first is a simple, single site installation (though you could run WordPress MultiSite on it if you wanted, but that's another article in itself). The second that I will go through runs Webmin, a free, open source control panel that means you don't have to get down into the weeds of administering a server by command line.
Installing The VULTR WordPress Image
Firstly of course you'll need a VULTR account set up. If you don't have one, you can get one by clicking any of our VULTR links, which will give you up to $100 of credit to play with. Considering that the VPS server you'll need for running one WordPress website will cost you $5 per month you can pretty much play the whole month for free. You can play with other services for that first month for free too within that $100.
Once you have an account, click the big + icon on any page and select Deploy New Server. Choose the Cloud Compute option unless you have a specific reason to want to choose one of the other, more expensive options. Then choose where you want your new server to be housed. If most of your target audience on your website is going to be in the US I'd recommend choosing a US based server even if you yourself are based elsewhere.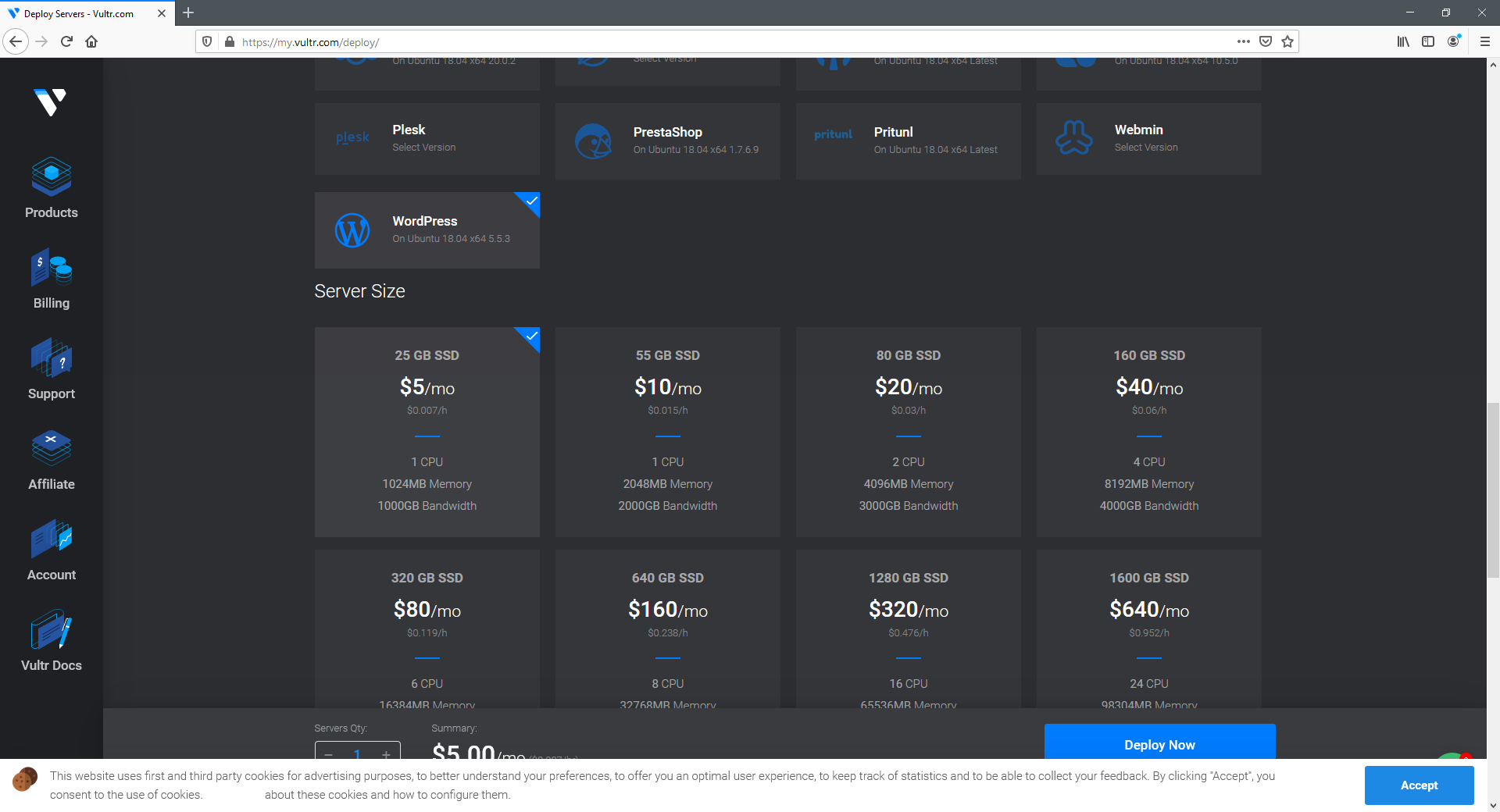 Choose the WordPress image, then select the $5 per month server size and finally click the blue Deploy Now button.
VULTR will then go ahead and begin the installation of your new WordPress server. And that's it. Once the installation has finished you'll see your new server under the 'Products' tab on the left and you'll have instructions on how to login to your new WordPress website and begin customizing it to your liking and adding content.
It truly is the easiest way to set up a WordPress webserver.
The Second Easiest Way To Set Up A WordPress Web Server
The method I used above works nicely if you only want to run one domain on your VPS. It can work with multiple domains if you want to use WordPress MultiSite with the domain mapping plugin, but I advise against this for most scenarios because it's quite a security risk. If one of your domains gets hacked, they all get hacked.
However, VULTR provide another way of hosting multiple domains on your VPS and easily controlling them through a web browser. And, unlike cPanel or Plesk, there's no additional fees per month for this solution.
VULTR VPS and Webmin
VULTR provide another very useful image that they will set up straight from a couple of button presses. It's the Webmin image. Webmin is a free, open source control panel for running Linux servers without needing to know all the intricasies of Linux configuration. It used to be fairly basic but it's extremely comprehensive these days and covers everything you'll need to run a web server with your websites on it.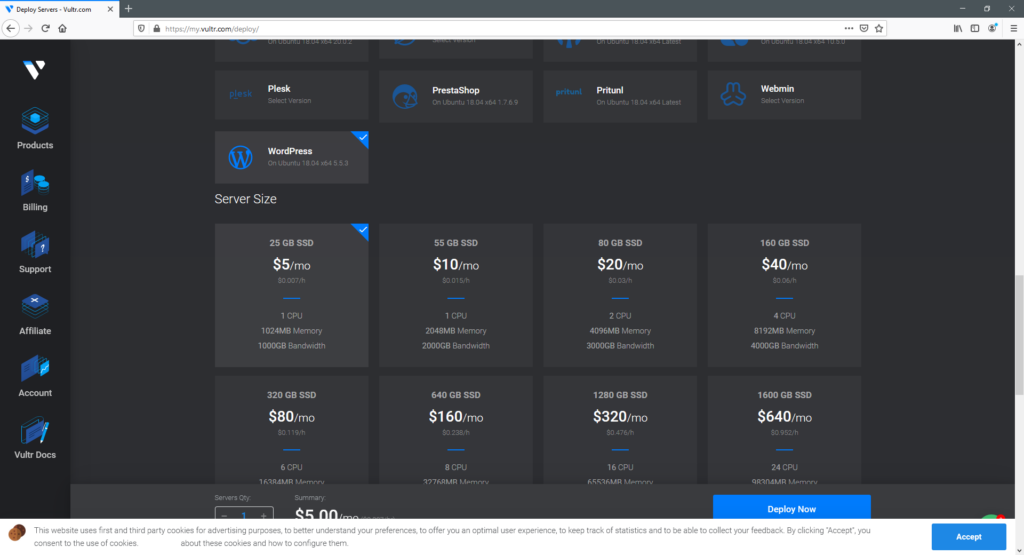 Choose the size of server you think you'll need, select Webmin as the pre-installed image and click Deploy Now to start the process.
Once the server is deployed, you'll see instructions for how to access Webmin and which username and password to gain access.
I'm not going to go into how to use Webmin in detail in this article – but Webmin will allow you to create multiple virtual servers all with separate hosting domains and spaces. And then, once you've set up the hosting space within Webmin, you can tell it to install WordPress through just a couple of clicks too.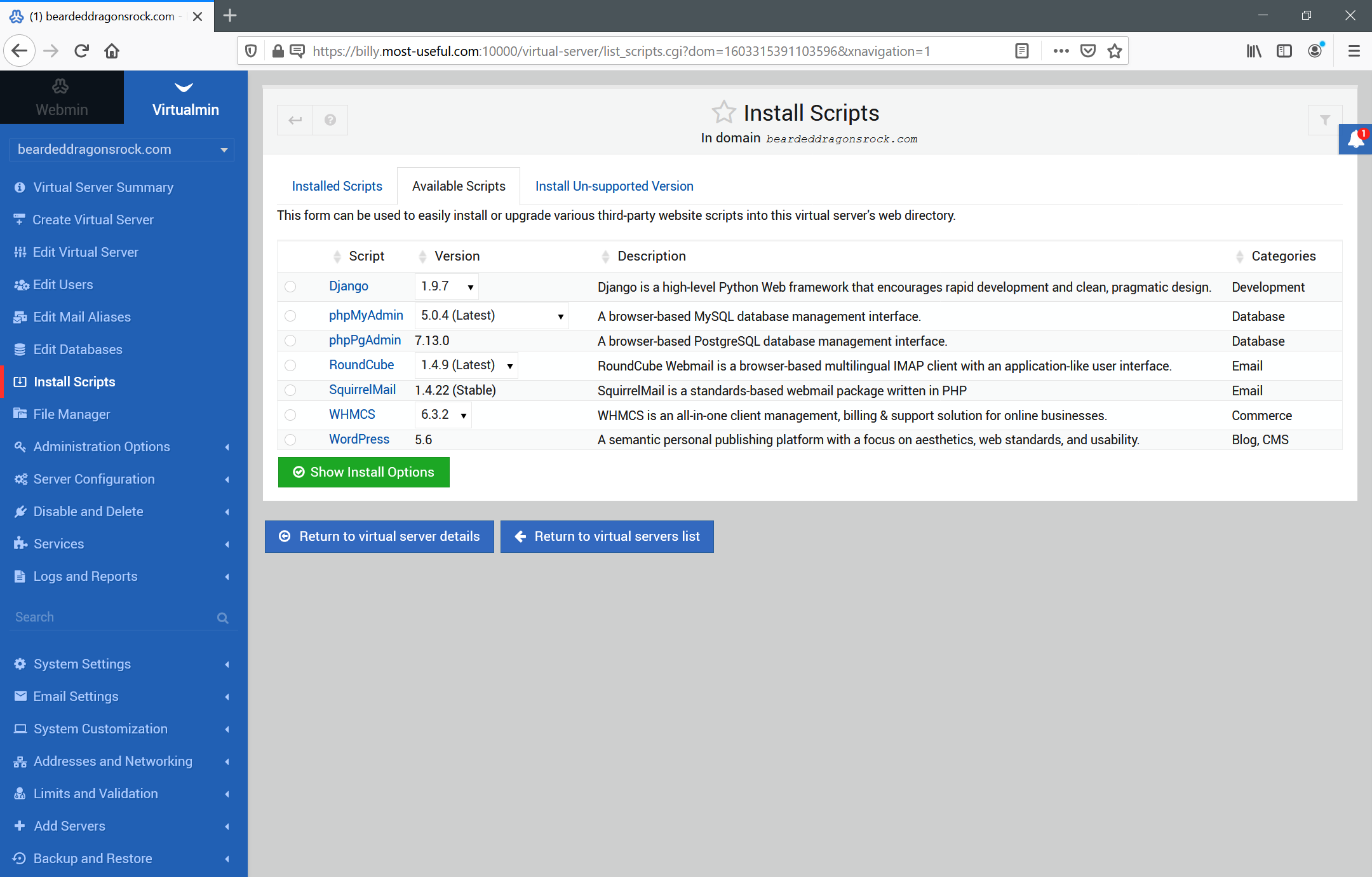 Managed WordPress Hosting
If all of this sounds like it's too much, then by far the easiest (but not the cheapest) way of setting up WordPress is to use the services of someone like Rocket.Net who will take care of setting everything up and running all the back end services for you. They're also magnificently fast and provide excellent service – leaving you to concentrate on simply creating great content for your users.