Rocket.Net Review By An Actual User (2022 Updates)
In this Rocket.Net review we show why we love them – they're FAST, reliable, professional and extremely helpful.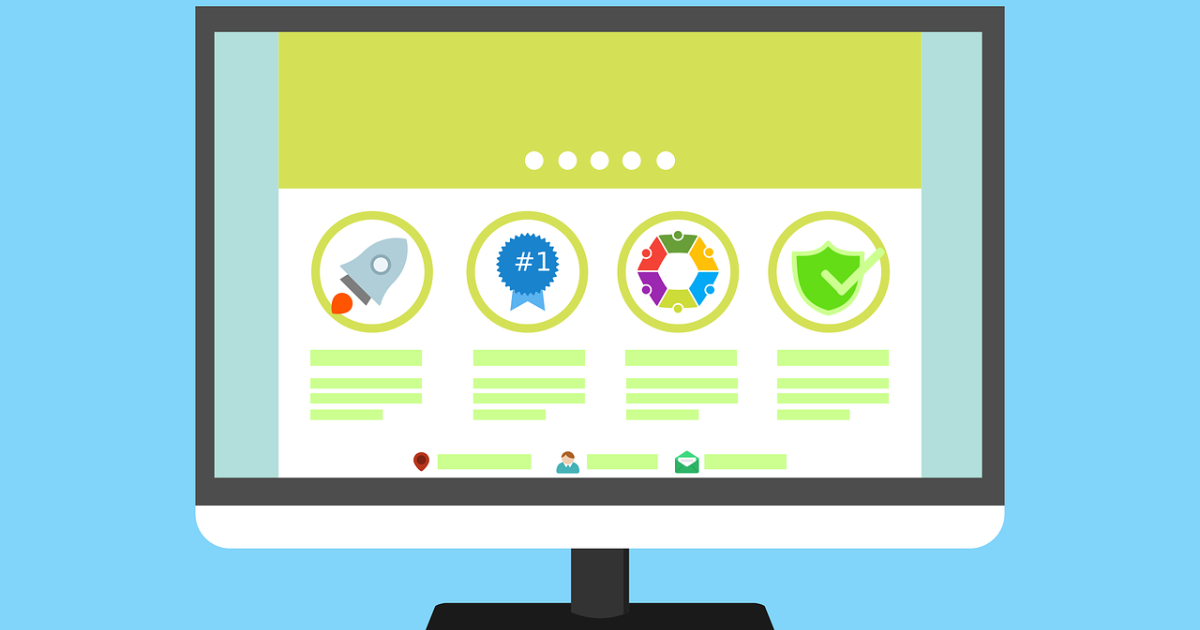 Last Updated: September 16th, 2023
By: Steve
If you've never heard of Rocket.net you're probably not alone. They're a relative newcomer to the world of WordPress Managed hosting. In this rocket.net hosting review I'm going to look at whether this newcomer has what it takes to really take off (pun intended). Having said that they're a relative newcomer, they're now actually 2 years old – and have only gone from strength to strength.
Why am I qualified to give a review of rocket.net hosting performance and pricing? Because I use it. Not for this site, it's true – I run Gatsby on this site for various reasons. But I have other sites running on rocket.net, including e-commerce sites using WooCommerce and I'm still as impressed today as I was when they first set up.
Rocket.net is an incredible managed WordPress hosting provider that provides lightning-fast and professionally managed WordPress hosting. They are able to have an extremely fast network thanks to their edge cloud technology.
To navigate all of your websites, they have handcrafted a stunning and simple-to-use dashboard. Protection, CDN, backups, and automatic updates are all included in their hosting plans. Rocket.net's managed WordPress hosting might be a good fit for you if you want to concentrate on expanding your company rather than juggling technical details.
And, on top of the speed that comes with their Enterprise Cloudflare partnership, Rocket.net has customer support that I have never experienced from any of the other managed WordPress hosts, ever. On a Sunday, at 4 in the morning, you can still get hold of Live Chat support to get your problems solved.
Do You Need Managed WordPress Hosting?
If you're looking to start a new business or sort out a presence for your business online there's a strong chance that you'll eventually come across WordPress hosting. The latest figures suggest that WordPress powers over 43% of all websites on the internet. That equates to something like 455 MILLION websites using WordPress already according to this post on Edubirdie which discusses WordPress statistics for 2023.
So if you're looking at getting yourself a website you probably will need managed WordPress hosting. That is unless you're capable of looking after all the technical aspects of running a website and/or a server.
So, in this Rocket.net review I'm going to assume you don't have the desire to look after the nuts and bolts of your website yourself – but that you DO want control of your own content. You don't want to hire a dedicated member of staff to look after your site and server, but you don't mind having someone look after the content for you.
And that's the great thing about managed WordPress hosting – you can concentrate on your copy, including where you put your images and headlines – but you don't need to worry about hackers, performance or updates. Let your marketing department concentrate on what they do best and relax knowing the tech stuff is taken care of.
What To Look For In Managed WordPress Hosting
There's hundreds, if not thousands of managed WordPress hosting companies around the world. What you'll want from a managed WordPress host will vary depending a little bit on the size of your business, your future plans for your business and potentially your target audience's primary location (unless your hosting provider has a good Content Delivery Network).
I've tried various managed wordpress hosting providers in the past – including InMotionHosting, SiteGround, KnownHost and now a relative newcomer, Rocket.Net – who look like they offer a decent system with minimal administration requirements. Let's look at Rocket.net wordpress hosting in more depth.
Advantages of Rocket.Net Managed WordPress Hosting
It would be an incomplete rocket.net review article if I didn't go into the advantages and disadvantages of rocket.net. So, I'm going to write this as a bullet point list to start with and will dig deeper into each bullet point further on in the review.
Disadvantages of Rocket.Net Managed WordPress Hosting
Plans and Features of Rocket.net Hosting
Rocket.net is a hosting platform that specializes in managed WordPress hosting. They provide controlled WordPress hosting for a variety of websites, including personal blogs, company websites, e-commerce, and much more. The following features are included in all of their managed WordPress hosting plans:
WordPress hosting that has been designed for improved performance and pace. For faster efficiency, they use a cloud edge network, a global CDN, and other cutting-edge technology.
Enhanced security features include an integrated website firewall, ransom ware protection, and updating, and protection from brute force and DDoS attacks, among other things.
All of this is achieved from a single mission command center, which includes a 1-click WordPress installer, 1-click WordPress installer, and regular automatic and manual backups.
All plans come with 24/7 service, a free SSL certificate, SSH access, and Git integration, among other things.
Rocket.Net Review, The Pros In More Depth
Websites Load Fast
To test this presumption, I loaded 2 of my existing websites onto the Rocket.Net platform. I then stripped all the caching plugins off the Rocket.Net WordPress hosting service version because caching plugins are something that are a bit more of a technical issue that many businesses won't want to be involved in. The initial site I tried was a very small, non-complicated site.
To run the test I used GTMetrix.com to see how fast each site responded. You'll note that the Rocket.Net sites are exactly the same, except the URL is different. That's because Rocket.Net allow you to operate a 'staging server' which is a very very useful feature I'll look at more later.
Let's have a look at some screenshots and go into detail on them. These tests aren't particularly scientific but do give you an idea. My hosting provider at present is VULTR (whom I love, but I am comfortable running my own server and doing my own support – which is absolutely not Rocket.Net's target demographic).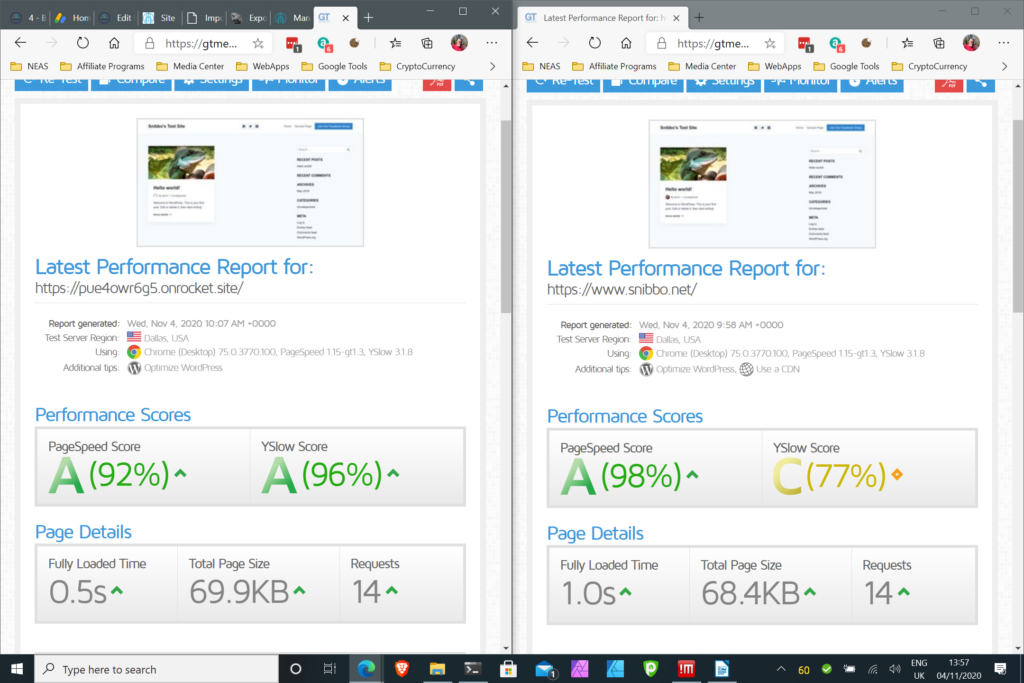 The image needs a little bit of explanation because it looks, on face value, a little contradictory. The Google PageSpeed scores put VULTR ahead. Which is odd, because if we look at it, we can see the Rocket.Net version is fully loaded in literally half the time. The PageSpeed score for Rocket.Net is a little lower than it should be because Rocket.net is treating resources that aren't found slightly differently. It's an error in my site not Rocket.net.
Nevertheless, the key metric from a customer or website visitor point of view is how quickly does the content appear in front of me. And Rocket.net steals that one easily on this simple site. It's also worth noting, that my test site – snibbo.net – is hosted in Dallas, which is where the test suite also resides. The test site on Rocket.Net is hosted in the UK… But Rocket.Net's clever Content Delivery Network integration has obviously determined the best location from which to send my pages to the test suite.
I could quite likely bring that time down on my own site quite nicely by installing caching plugins, a CDN and some Javascript and CSS optimization tools. In fact I know I can. But that's the point of Rocket.Net – you don't need to do anything to improve the performance of your website because it's done for you.
Guaranteed 99.99% Uptime
I've not been using Rocket.Net long enough to know whether this is actually accurate. However, I do understand the infrastructure they're using to host your website and can see their host server specifications so I have no reason to disbelieve this. Other reviews I've looked at have been using Rocket.Net for a few months with zero downtime so again, I see no reason to disbelieve this.
Rocket.Net WordPress Hosting Requires No Technical Knowledge
Setting up WordPress and MariaDB / MySQL is not for the uninitiated. I'm comfortable with it but I've been managing servers for close to thirty years. For a marketing department that just wants to get their content out there to their customers you don't want to be hiring someone to set up and manage NGinx or Apache webservers, with whichever version of PHP you decide (do you know which one you want?) and then installing MariaDB, PerconaDB or MySQL.
Do you see what I mean yet?
For the pretty reasonable fee (listed below) per year or month, Rocket.Net will take care of this for you. And as part of that fee you'll get access to one of the easiest control panels I've seen in a long time.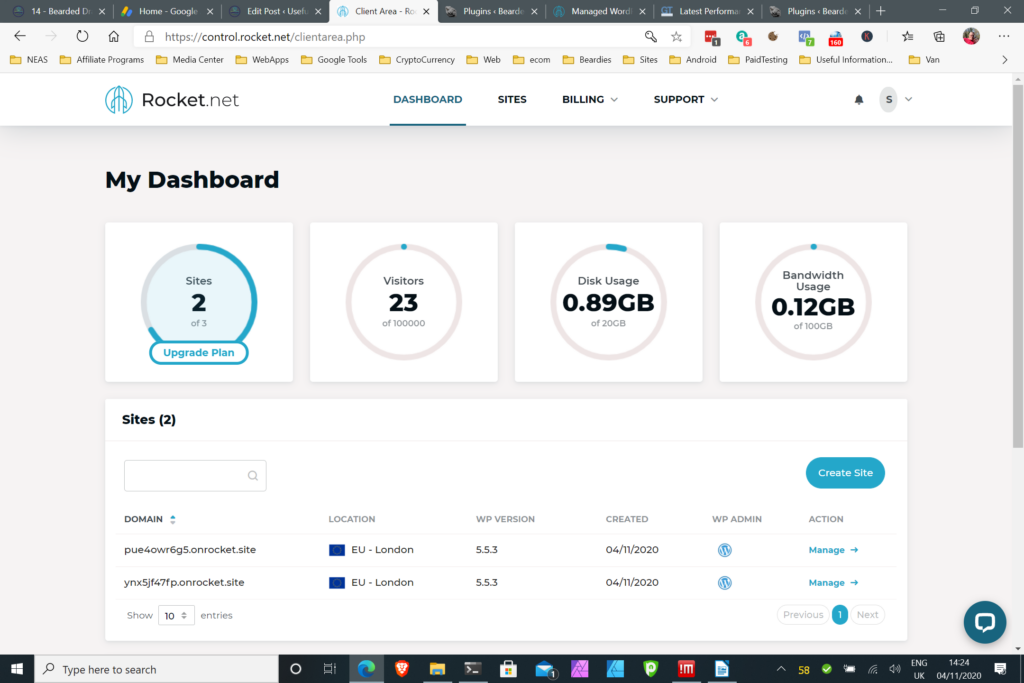 Creating a new website is literally a push button experience. Simply click the Create Site button, input the name of your website on the next page.
On the next screen the only things you'll need to worry about are the email address of the administrator, and their username and password. The image below shows you how easy it is;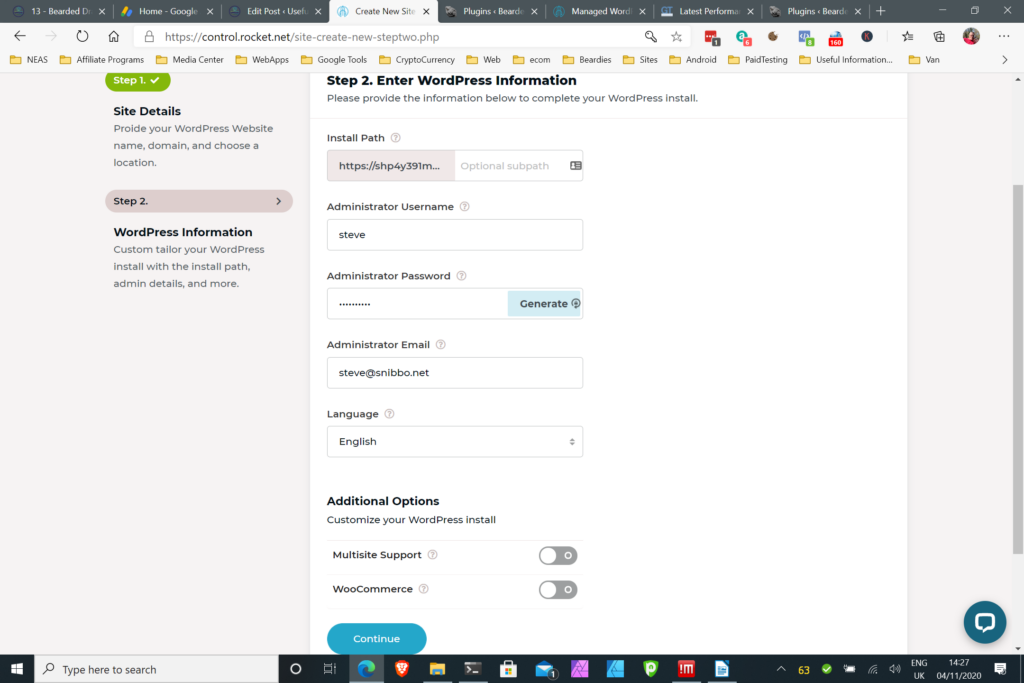 And that's it. Your site will be created and you'll be taken to the control panel screen where you can change the way your site looks, or set up different add-ons to do the things you want. Some are pre-installed by Rocket.Net so you don't have to go looking for them, but if you do want to add your own add-ons then you can do that.
Automatic Backups, Automated Updates And Security Built In
Rocket.Net Managed WordPress hosting will take care of keeping your WordPress installation up to date. Because WordPress is a software platform, it can have security issues. Updating to the latest version of the software helps to mitigate the threats from the internet at large.
Rocket.Net also automatically configures a Web Application Firewall (WAF). What this means is that certain commands can be crafted in a web browser, or automated script, that take advantage of known weaknesses in WordPress. The Rocket.Net WAF automatically intercepts such commands and stops them before they hit your website. As someone who's battled a hacked WordPress website in the past I can say that this is a feature that is well worth having even if you do know what you're doing. It took me days to clean one of my sites up a couple of years ago. I've since put other mitigation procedures in place on my sites, but trust me, if you don't know how to secure a WordPress website it's far better to let someone like Rocket.Net do it for you.
And finally – if the worst does happen, Rocket.Net keeps 14 days of backup of your website. This means if your website gets hacked you have 13 days to notice before the damage is permanent. You probably ought to be checking more often than that – and if you don't – Rocket.net will do it for you anyway and let you know if it finds anything dodgy. More importantly, if you make a mistake when updating your website and want to revert it, you can.
Or;
Rocket.Net Staging Server Is Easy
Switching your website to a staging server is easy. What this means is that you can set up your website and by switching on a staging server you can make significant changes – see them yourself (or anyone you give the staging address to) without the public seeing them. Then, when you're satisfied the changes are correct and good, with the flick of a switch the staging server can become the live server.
This is powerful. I've messed up many a live server because normally, without some clever behind the scenes jiggery pokery, any changes you make to WordPress go live immediately. Many years ago I wrote a plugin that did this sort of thing for you by creating a duplicate database for you to work in, and a duplicate filesystem. I've since been unable to keep up with the changing landscape of WordPress having changed career – but the plugin was popular because people like to be able to play with their site while the live site remains untouched.
Easy to use staging server is one of the key benefits that Rocket.Net can offer you. Peace of mind to play with your website behind the scenes.
Rocket.Net has Multiple Server Locations
Given that Rocket.Net utilises the Enterprise Cloudflare CDN offering as part of its package, it could be difficult to see how having multiple server locations is of any benefit at all to you. After all, Cloudflare will take care of serving the site from a location as close to the individual end user as possible.
But there's one set of users who Cloudflare won't serve content for. And that's the site administrators. All traffic to the administration screens will bypass any Cloudflare CDN and go directly to the server. So, for example, if you're based in Melbourne Australia – but the hosting company server is in the UK, you could be in for a tough time. The internet 'pipework' between the UK and Australia can become a little 'clogged' at times resulting in an administration interface that could potentially run slower than an ant running through molasses in January (in the UK).
Putting the host server close to the administrators get's rid of this problem. If you're in the UK, host your Rocket.Net server in London. You'll speed up your administration screen significantly and there's no downside to the site's visitors as they'll still get their content from a local Cloudflare server.
That is unless your site is very dynamic in nature and has lots of updates throughout the day. Then you're probably going to want your server to be in the same place as your target audience. But for most uses, keep your server close to your administration team, not the end users.
Rocket.Net Review, Cons In More Depth
Price
This one is pretty easy really. I said that Rocket.Net is expensive. But that's a matter of perspective.
The basic 'Starter' package from Rocket.Net is $25/mth which will host just one WordPress site with up to 25,000 visitors. That's not a big site by any stretch of the imagination. But I challenge any business owner to hire someone to look after their website for $25/mth. Even a Virtual Assistant from the Phillipines or someone on Fiverr is going to want more than that to actively look after a WordPress installation, particularly if taking backups and keeping a close eye on security is concerned.
No File Manager
Despite being advertised as having a web based file manager I couldn't find one anywhere in the control panel. And there's a few things that I need to upload manually to my server such as ads.txt to maintain Google Ads compliance, and of course the wonderful favicon.ico to make the little logo in the corner of your browser represent your sites identity instead of a WordPress icon.
It is possible to use SFTP to do this – but that is technical. For a system that prides itself on being quick and easy with no technical knowledge needed, this is a fairly big thing to miss.
Given that this is an advertised feature of the service it's quite possible I just can't find it – in which case, please let me know!
Updated 2021: The file manager is available from the main dashboard now and is quite well featured, allowing you to create new files, edit existing files, create and delete folders etc. Everything you'd expect from a web based file manager really. So this is no longer a problem 🙂
No E-Mail Service
Every business with a website is going to need an e-mail address and a way of collecting e-mail sent to that address. There's no provision for this on Rocket.Net which is a bit of a problem. I do understand that isn't a WordPress feature and this is a WordPress hosting company but I think it would be a good idea to provide some way of integrating E-Mail into the service. This could just be a simple catch-all Mailbox (or even just a single e-mail address such as [email protected]) with some sort of webmail interface built into the control panel.
Or even some instructions on setting up a Microsoft Outlook.com e-mail address (or a GMail address). I'm looking at this from the point of view of an all-in-one, no technical skills setup rather than a 'fastest WordPress host' aspect though.
Customer Service & Support at Rocket.net
Not everybody who uses WordPress is familiar with the technological aspects of the platform. Also, seasoned users can need assistance from time to time. In an emergency, you'll want to go with a hosting provider that offers better customer service.
Rocket.net provides live chat, email, and call service 24/7. They have a support team who understands WordPress inside and out and is willing to assist as a managed WordPress hosting company. The response time for support is excellent, and complaints are resolved quickly.
Is Rocket.Net WordPress Hosting Worth It?
If peace of mind and great performance is important to you then yes, Rocket.Net wordpress hosting is definitely worth it. You can't put a price on peace of mind and with all the security systems that Rocket.Net comes with already setup and managed. You also can't put a price on being able to get in touch with someone at support any time you need them.
As I mentioned at the beginning of this post, I use Rocket.Net myself for some of my other sites, so I know it performs well and I know the customer support is second to none. For the peace of mind and lack of stress it's well worth the monthly fee.
Rocket.Net also has a 30 day money back guarantee so they're obviously pretty confident in their ability to deliver.
They're also presently doing a launch special (Still active as at January 2021) whereby you can join for just $1 for the first month. That's a pretty decent trial.
If you've enjoyed this post please feel free to share it using the buttons below. If you have any questions, comments or feedback we'd love to hear from you by leaving a comment using the form below.
Thanks for reading!