Hetzner Vs Vultr For 2023
In this Hetzner vs Vultr post I examine why you might choose Hetzner over Vultr – or why Vultr might be a better choice depending on circumstances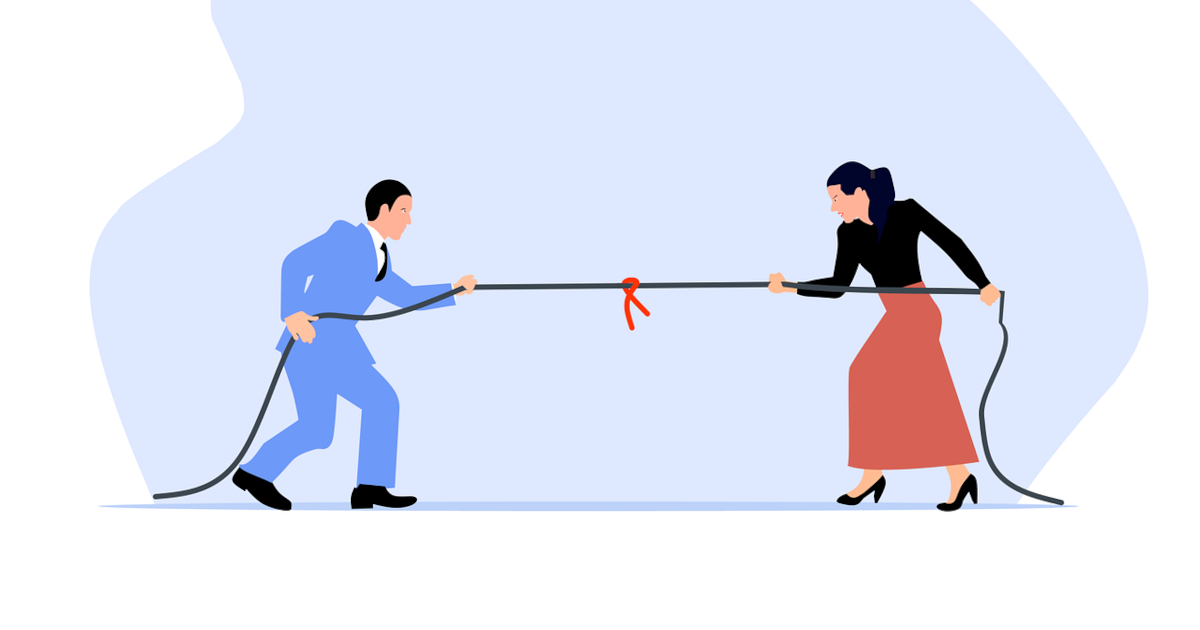 Posted: March 3rd, 2023
By: Steve
If you're thinking of setting up your own Linux server for hosting websites or running a Minecraft server, then you're probably looking for what's known as a Virtual Private Server or VPS. This website is itself hosted on a VPS, along with a number of other sites. In this post I'm going to compare Hetzner vs Vultr, with a view to showing you which one is, I believe, better for going forward into 2023.
If you're looking for a fully managed solution to host your website, where you don't need to concern yourself with Linux system admin or any of the intricacies of security and DNS and all that nonsense, then I highly recommend Rocket.Net – they're not cheap, but they will make your life easy.
How Do I Know About Hetzner Vs Vultr?
Over the years I've used InMotion Hosting, KnownHost, VULTR and Hetzner. For the past 18 months I've been using both Hetzner and VULTR. My Hetzner server was initially chosen based purely on cost. For the same price as a VULTR server with 2vCPUs, 2GB RAM and 60GB NVME drive, I could get a 4vCPU Hetzner server with 8GB RAM and 160GB hard drive. OK, the hard drive might not be NVME (or it might, I don't actually know). But the RAM and vCPUs were hard to ignore.
But Hetzner, until fairly recently had one major downside for my use cases. They had servers in Germany and Finland. Most of my traffic is from the US. Germany and Finland are a long way from US visitors and that distance – and need for international undersea data links – can introduce delays in delivering web pages to visitors. Slow websites = leaving visitors.
So for that reason, I hosted European based sites on Hetzner and US based sites on VULTR.
But that's all changed now that Hetzner offer a US based VPS too. And, interestingly, it seems the US based servers seem to run somewhat quicker than the German or Finnish ones too. I haven't any science based statistics to back that up, but they feel snappier.
This won't be a long, in depth review of Vultr Vs Hetzner because to be honest in my experience (now that Hetzner has the US based VPS available) there's very little between them. Except price.
The Hetzner CPX31 VPS offers 4vCPU, 8GB RAM, 160GB Hard Drive with 20Terabytes of outbound data per month for approx. $16 US. VULTR by contrast for a similar VPS is $48 per month.
Pros and Cons of Hetzner Vs Vultr
So, in this quick comparison I'm going to compare similar VPS offerings from Hetzner and Vultr. I've outlined in a table the features, price and other things to give you an easy, at a glance comparison. It does show you why I believe Hetzner is currently a better choice than Vultr. Though it's fair to say I still love Vultr too – but the price!
Feature
Hetzner
VULTR
vCPU
4
4
RAM
8GB
8GB
Hard Drive
160GB
(Unknown if SSD or NVMe)
180GB
(NVMe)
Outbound Traffic
20 Terabytes
6 Terabytes
Avg Throughput**
19.7 Mbits/sec
19.6 Mbits/sec
External Firewall
Yes
Yes
Automated Backups
Yes (20% of Server Fee)
Yes (20% of Server Fee)
Snapshots
Yes
Yes
Free Secondary DNS
Yes
NO***
Price
$16 (approx.)
$48
Comparison of Hetzner Vs Vultr
** = This is HUGELY unscientific and was performed using my home broadband connection which is definitely the bottleneck here. At some point I'll set up a third party server somewhere and try it on real bandwidth 🙂
*** = Vultr DO offer DNS services for free but it's a very manual process to setup and keep updated. It does not integrate with cPanel or Virtualmin – whereas Hetzners DNS offering is a secondary DNS solution. When you update the DNS on Virtualmin the secondary DNS is updated automatically.
As you can see from the table though, there's very little in it when it comes to feature offering. The real difference is the price. You could set up a cluster of 3 Hetzner Cloud servers for the same price as 1 Vultr VPS.
Don't get me wrong, I do like Vultr. They've served me well over the years and I intend to keep using them for some specific tasks because I like to spread the risk. But Hetzner aren't newcomers to the space, they've been around years and their offering is solid.
Based on price, and the ability to easily set up secondary DNS across 3 separate servers, I now choose Hetzner for most of my servers.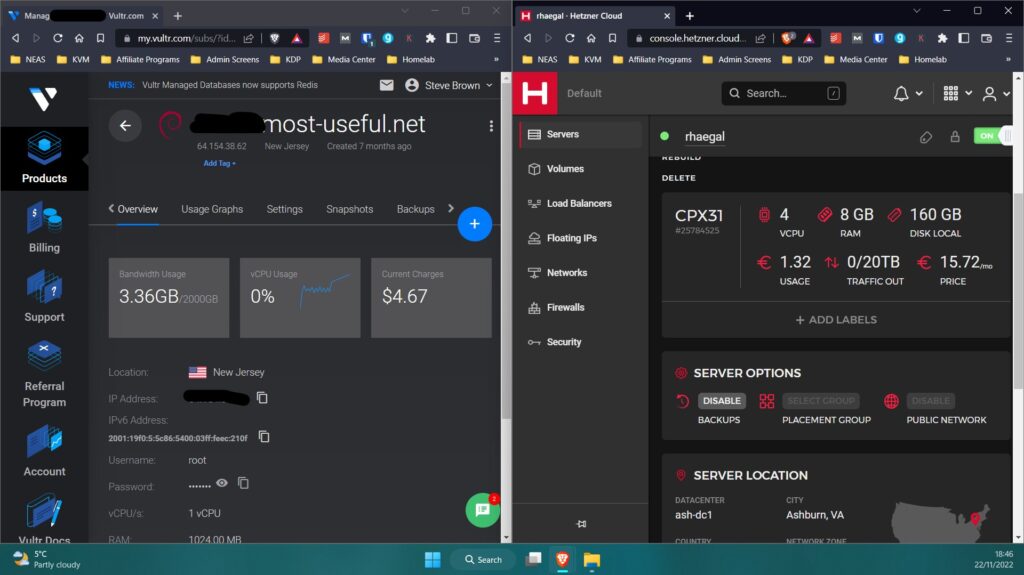 Hetzner Free Credits
Both VULTR and Hetzner offer free credits for you to try out their services before deciding which is right for you.
You can get $100 worth of free credits from VULTR by clicking here, and/or
You can get 20 EUR of free credits from Hetzner by clicking here
Clearly, in terms of free credits, VULTR wins this one. But to be fair, you can easily play around with either for a month just with the free credits. You should be able to tell after a month which is really the best choice for you.
Hetzner Free DNS
As I mentioned above, VULTR do offer free DNS services so you don't have to host your DNS server on your VPS. Hetzner do too – but Hetzners is much easier to setup using cPanel or Virtualmin because it utilised standard DNS protocol secondary servers to replicate data from your server to theirs.
VULTR have an API which can be used, but to date, none of the control panels seem to include it. Virtualmin certainly doesn't (although Virtualmin does offer Cloudflare DNS or Google DNS integration in their Virtualmin Pro package. I actually use that now myself to directly update Cloudflare DNS).
Setting up Hetzner DNS replication is easy. It's even easier if the primary server is hosted on a Hetzner VPS. When setting up the secondary servers on Hetzner's Control Panel, the primary server has to be specified to allow the transfers to take place. This is a manual process if the primary is on a different hosting provider, but is an easy drop down selection if it's hosted at Hetzner.
Does Hetzner Accept Crypto?
At the time of writing Hetzner does not accept Crypto payments. If there's one potential downside to Hetzner (which in my case is a plus side, but for you it may not be), Hetzner is extremely protective of its network and billing. Hetzner will require you to provide identification before allowing you to setup your first VPS. VULTR, to my knowledge, do not.
VULTR does accept Crypto payments using the following cryptocurrencies;
Bitcoin (BTC)
Bitcoin Cash (BCH)
Ethereum (ETH)
Dogecoin (DOGE)
Paxos (PAX)
Litecoin (LTC)
BUSD, USDC and GUSD
There are no refunds available if you pay for your VULTR server through crypto though, and payments could take up to 120 minutes to process.
Does Hetzner Have cPanel?
Hetzner does not have a cPanel App image available like VULTR does. With VULTR you can install a cPanel server and have the cPanel licence built in to your VULTR fee. If you're a cPanel user this can be an excellent drawcard for VULTR – but do bear in mind cPanel is relatively expensive these days ($22.00 per month additional fee on top of your VPS). If you're used to it and like it and feel it's worth the money then VULTR wins this one.
For me personally, I use Virtualmin Pro. It's $10/month and allows me 50 domains across as many servers as I want. If you don't need the Pro features then Virtualmin GPL offers most of the same features but is free. It's also very easy to install from a clean slate OS install and can be installed on either Hetzner or VULTR VPS.
Which is Best, Hetzner or VULTR
As we've shown above, there's not much to choose between the two service providers these days.
Reasons to Choose Hetzner
Price. Hetzner's service is outstanding for the price and I don't think any of their competitors can beat them on price. Hetzner is not a case of 'you get what you pay for' when it comes to their low price either. They're plenty fast enough and in the 18 months I've been using them have been completely reliable. I can't say how they respond to support matters because I've not needed them.
Integrated Secondary DNS option using standard DNS protocols. Set up your primary nameserver, tell the Hetzner Secondary DNS system where your primary is, and it'll do the rest.
Higher Traffic Allowance. Hetzner servers come with a higher outbound traffic allowance and unlimited inbound traffic allowance for the same spec server.
Click here to get 20EUR credit to trial a Hetzner Cloud Server
Reasons to Choose VULTR
You want to pay with Crypto. Hetzner doesn't take crypto and will require ID from you before allowing you to setup your first VPS.
26 different locations. If you don't want to host in the US, Germany or Finland then VULTR is a better choice. They have servers in the US, various European capitals, Mexico, Japan, India, Singapore, South Korea and Australia.
cPanel Bill included in the price (optional). You can easily set up a cPanel appliance and have VULTR bill you at a discounted rate instead of paying cPanel directly for the licence. This is convenient and does offer a cPanel discount.
Click here to get 100USD credit to trial a VULTR Cloud Server
Summary
As we've seen there's not much to choose between Hetzner versus VULTR aside from a few fairly obscure features that one might have over the other. If you're looking for a US based server (or Germany or Finland based) then Hetzner is probably going to be the best choice for you – unless you want to use Crypto to pay or object to providing ID to sign up (though there's no guarantee that VULTR don't require ID these days too).
If you're wanting a VPS somewhere else in the world then VULTR will be your provider of choice.
Incidentally, if you're looking for a fully managed WordPress solution to run your website, then I still recommend Rocket.net – their speed is second to none and I heard Jon Dykstra (Fat Stacks Blog) on the Niche Pursuits Podcast recently and he recommended them as well. If they're good enough for a $100k a month blogger to use, they're good enough for me!
If you've enjoyed this post please feel free to share it using the buttons below. If you have any questions, comments or feedback we'd love to hear from you by leaving a comment using the form below.
Thanks for reading!
Featured Image by Mohamed Hassan from Pixabay