Cowin MD-6110 Mini Bluetooth Speaker Review
Learn whether the Cowin MD-6110 Mini Bluetooth Speaker is worth the money, and how it stacks up against the competition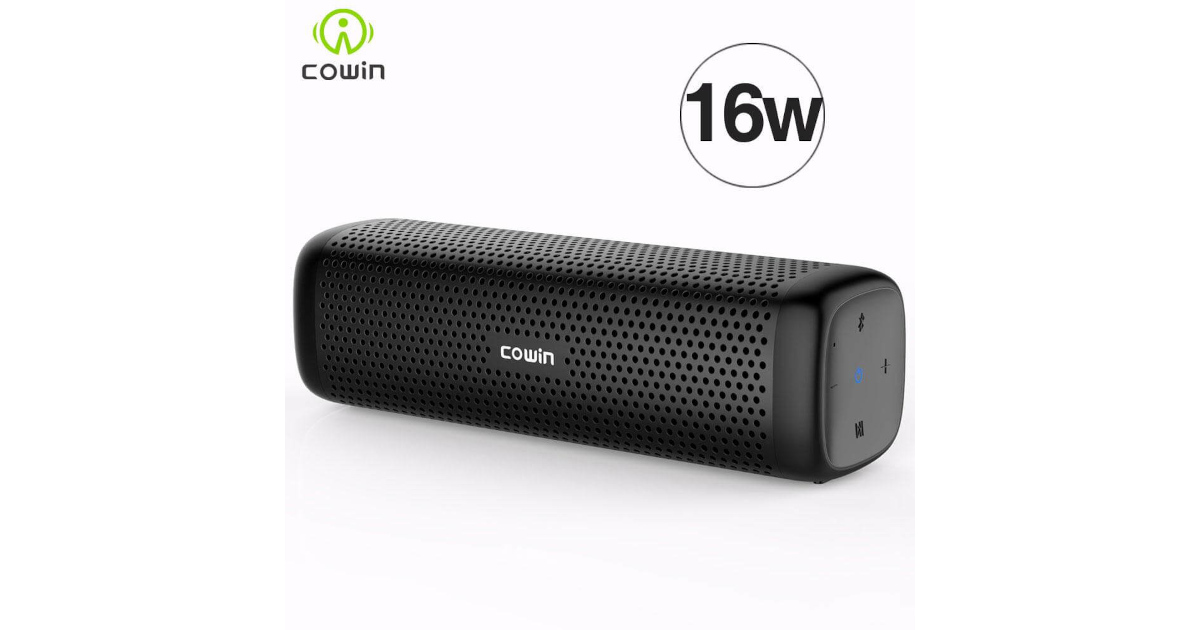 Posted: December 24th, 2021
By: Steve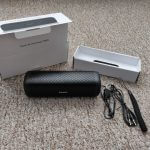 Whilst it's difficult to let you experience how these speakers perform, I think you can see from previous reviews that if something doesn't live up to my expectations then I'll tell you ( Goodmans Soundbar I'm looking at you ). With that in mind, I am going to review yet another speaker.
The Cowin MD-6110 Mini Bluetooth speaker is a small (about 6 inches long and just over an inch in depth and height) bluetooth speaker but it's heavy for its size and packs a mean punch for its size too. I ordered one because I needed a new BT speaker and I'll be honest, I didn't have a lot of hope that it would wow me.
I was wrong. It's almost as good as the Niche N5-B but that speaker is twice the price, and 4 times the size. The Niche does beat the Cowin on sound quality and overall volume, but only just.
I have no idea how they get such sound and volume from such a tiny package. They talk about 'passive subwoofers' in the marketing blurb.  I don't pretend to understand it, but whatever it is, it's working. The bass won't kick you in the chest like a proper subwoofer (for example on the Logitech Z533 that I reviewed earlier this year – but that's a powered 2.1 system, so you can't expect a small Bluetooth speaker to reproduce that same kind of bass. But there is enough bass to vibrate the table it's standing on. Midrange and treble are crisp and clear and the advertised 16W PMPO certainly goes loud enough to be heard in every room in my house.
Pairing with the phone was a doddle. Turn on the speaker, select Bluetooth options on the phone and hit connect. Job done. If you're pairing with a phone that supports it, the battery level for the Cowin MD-6110 will be shown as well, so you know how much you have left. The speaker will also act as a handsfree headset if you choose. I tried this and the other caller could barely hear me so I'm not sure that's really a useful feature.
I haven't tested battery life yet, but the marketing blurb states it'll do up to 10 hours. I've managed about 4 so far and the battery is just above 50% so I suspect at the volume I'm using it at 8 hours is probably closer to reality. But I have got it pumping…
Unlike some of the other Bluetooth speakers I've tried in the past, this will play your music whilst it's charging, so if mobility isn't an issue you can use it if it's going flat. There's no annoying voice that says things in a strange way with a strange accent either when you're pairing or disconnecting – it's all a nice soft beep tone to let you know it's connected. And, if you walk out of the house while you're playing your music, the speaker will automatically disconnect and enter power-saving mode while you're away – automatically re-connecting when you get back in range.
The price varies depending on where you buy it, but they're presently going on eBay for about 59 quid which is I think is a very good price.
The Good Things About the Cowin MD-6110
Surprisingly good sound – adequate bass (significantly good for such a small speaker), good midrange and treble
Lovely design in black aluminium
Loud enough for most uses
Good battery life
Low energy bluetooth mode
Has AUX input if you don't want to use BT
TF Card for MP3s
The Bad Bits About the Cowin MD-6110
No FM Radio – doesn't bother me, but some people may want it
Heavy if you're planning on using the supplied wrist-carry (but good speaker magnets are heavy!)
Still a small speaker, so don't expect miracles, but it does punch well above its weight
If you've used the Cowin MD-6110 speaker yourself please give your view on it below in the comments.