Cheap, DIY Dust Extractor
If you're about to embark on some heavy DIY that's going to create dust, you may need a cheap DIY dust extractor to help keep you from becoming public enemy #1 with your household members. This post shows you how.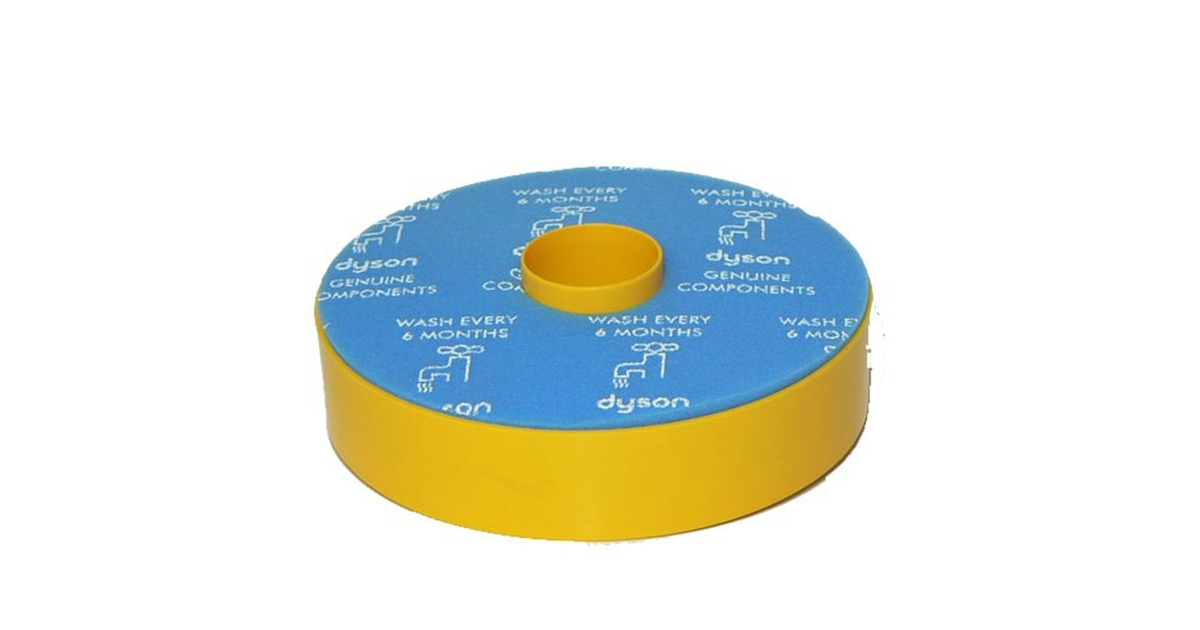 Posted: November 23rd, 2021
By: Steve
A strange topic for Most-Useful.com perhaps, but I wanted to share my recent experiences with helping a friend redecorate and combating the insane amounts of dust that can be generated.
The problem with dust is that gets everywhere. Throughout the house. It's annoying and unhealthy.
The problem with dedicated dust extractors is that they're all designed for commercial use – or use a bag system which doesn't filter the smaller particles effectively unless you pay big money. For someone fixing up a couple of rooms that's just silly.
So, if you're going to be filling and sanding any reasonable amount of wall area in the future, read on because this is a pretty cheap way to get excellent dust extraction without breaking the bank, and potentially upcycling an old broken vacuum cleaner.
Get An Old Bagless Vacuum – Preferably HEPA Filtered
In our case we had one of these laying around. It's a Dyson DC07 Animal (the purple one). It was laying around because the clutch has gone in the rotating brush at the bottom and as such it's no longer any good for picking up dog hairs. But it still works great as a vacuum cleaner.
Problems With The DC07
It's LOUD
It cuts out regularly due to overheating
The hose compresses on itself and makes it VERY 'heavy' when attached to the sander.
We've worked around these problems with some little modifications – though the noise does mean you may want to work in a different room to where the machine is running. But sanding is inherently noisy anyway, so I recommend ear defenders. I'll go into the modifications – and why I chose this route later.
Benefits of the DC07
It's bagless
Almost no dust in the atmosphere even with heavy sanding
It's very reliable (once we fixed the overheating issue)
Spares are plentiful and cheap (filters)
It's VERY powerful
Nevertheless, we started my friends renovation efforts using the DC07 with some duct tape holding the hose onto the sanders. It worked, but wasn't ideal for the reasons above.
Dedicated Dust Extractors
Initially, because my friend is renovating a fairly large portion of the house, with much filling and sanding of walls (the property is over 70 years old) and the problems of using the Dyson were making it annoying, she bought a dedicated dust extractor from Amazon.
The blurb on the company website said that it filtered down to 0.1 microns, which was adequate for the dust we were creating. It also specified that the dust extractor was for domestic not commercial use, so we thought we might be pushing our luck a little, but we were domestic since we were doing a few rooms in a house, not renovating multiple houses.
It's a great price for a dedicated dust extractor.
Nevertheless, she bought it and it looked good and worked really well. The hose didn't compress on itself under the power of the suction – and the suction was good. Not as good as the Dyson, but good enough.
It didn't cut out due to overheating. But it was just as noisy as the Dyson – although in a different frequency range perhaps.
Importantly though, the hose did not try to retract on itself due to the suction because it's a rigid hose rather than a retracting hose like the Dyson had. It also had a hose that was long enough to reach the ceiling – although I did have to place the box on the step ladder for that. But it was light enough it didn't matter.
One MAJOR Flaw With The Dedicated Extractor
This particular dedicated dust extractor is a bagged design. The bag, the website claimed, would filter down to 0.1 microns, which as I mentioned was small enough for the renovations we were making. But, the clip that held the bag onto the housing didn't make a particularly good seal and after a few days the evidence of plaster and filler began to show.
As this dust began to build up, the dust began to be vented into the atmosphere – rendering the whole thing pointless. After some time the motor fused and I had to send the unit back.
I want to point out that I absolutely cannot fault Scheppach's customer service. They were brilliant and I had a few conversations with them while I tried to work out a way forward. In the end we agreed that because the product was advertised as 0.1micron but actually wasn't so, they'd refund me. They had offered a repair and/or replacement initially – which would have been a good choice if it was just the unit that was at fault. Nevertheless, there was never any argument – just a discussion about the way forward, so hats off to Scheppach.
Incidentally, if you're looking for a dust extractor for using for woodworking in a shed/garage then the Scheppach above is likely to do you proud. It'll cope with some wood sanding, and definitely shavings and filings from a lathe or something similar.
Back To The Drawing Board (DC07) Then
We still need a dust extractor. There's just too much plaster and filler that needs sanding to be able to not use one. The FFP3 masks we're all suddenly so accustomed to using work for keeping the dust out of our lungs, but not off the rest of the house surfaces.
I decided to re-visit the Dyson. It sucks hard (heh) and releases very, very little back into the atmosphere. But has too main problems;
Suction is so good that it tries to contract the hose – making it heavy and awkward to use.
Overheating due to the small holes in the sanding equipment restricting airflow.
So – I've done a bit of a bodge job and now have a superb domestic renovation/decorating dust extractor for very little money…
Solving the Hose Problem
I bought a 2.5M Henry Hose from Amazon, wondering if it would be able to attach to the Dyson somehow. The plan was to one end to the Dyson and use the attachment that came with it to attach to the sander.
It's a bit Heath Robinson but it works (which sort of means it's not actually Heath Robinson at all really doesn't it).
The Henry hose from Amazon arrived. On one end is indeed the attachment that will fit into the sander. It's a tight fight and doesn't fully go in. But that's OK, I was planning on Duct Taping it together anyway. Which I did. It's pretty solid at that end. That end of the hose also has a nice unexpected bonus in that it rotates too. This means you won't end up with the hose in a big distorted knot that you can't get out of.
The other end is normally used to attach the hose to the Henry. In this case though, I've attached it to the existing Dyson hose with – you guessed it, Duct Tape. But to it properly I removed the screw end that would normally attach to Henry – leaving just the plastic ring around the hose. It's easy to do – there's 2 press points which when pressed with a screwdriver allow you to prise the end off.
The end of the Henry hose then sits nice and snugly on the Dyson. For some extra lateral strength I placed 2 aluminium strips (but wood would do too) along the length of the join and Duct Taped those in along with Duct Taping the join itself. It's surprisingly solid.
The Henry hose does not retract itself under the power of the suction as it's a much more rigid pipe. It's still plenty flexible enough laterally (side to side) but not lengthwise. So it maintains it shape properly under suction.
It's also nice and light. Making it very easy to reach higher places. The length of 2.5 metres means you can reach floor to ceiling in most houses and the rotating collar at the sander end is very helpful for keeping everything kink free while you move the sander around at all sorts of angles.
But there's still the overheating issue….
Fixing the Overheating Issue
This is a ridiculously simple fix. At the sander end, on the collar (which rotates), I drilled 4 holes about 6mm each. This allows enough air to pass through unimpeded down to the vacuum cleaner, but doesn't stop the suction at the sander. I'm not sure the pressure has changed at the sander.
But the Dyson DC07 absolutely relies on enough air flow through itself to keep itself cool. If you don't allow enough air through the hose (which the sander doesn't) then you overheat the motor and the thermal cutout engages after about 10 minutes. Since applying this modification my friend has sanded the stairs and was using the Dyson for around 2 hours with no thermal cut out at all.
And because the hose is always under vacuum when operating properly, you don't get any dust come out the 4 holes.
Be aware though – and I speak from experience – if you forget to turn on the vacuum when you begin sanding then you will get dust aplenty come out those 4 holes… But you don't want to be sanding without the vacuum running anyway.
By the way, the 'dust bags' that a lot of the sanders come with to collect the dust are simply not worth bothering with. More will end up in the air than in the bag.
Does This Really Work?
Yes it does. I can sand a room now without needing to wear a mask. The level of dust in the air (and subsequently furniture) is minimal. And it cost me about 15 quid in total (not including the vacuum).
I'd recommend the Dyson DC07 Animal as it has a HEPA filter. I changed the HEPA filter on mine and it did have some residual dust in it – though not much, so you may get away with the DC07 normal version (which doesn't have the HEPA filter in it). You can get second hand ones on eBay very inexpensively.
I recommend these because they're stupidly easy to clean when they get dirty. They're also stupidly easy to get spare parts for on eBay too. And the filters can be bought on eBay for very little money too. I have 3 filters. You can wash them (I just rinse them after a session, then dry them before using them again). I have 3 so that 2 can be drying whilst 1 is in the machine itself.
I got all the filters on Amazon here.
Links to Equipment / Parts
All the parts in this tutorial are available readily from Amazon or eBay.
Takes about 5 – 10 minutes to implement. Stops nasty dust inhalation throughout the day 🙂
Quick Picture of My Setup…
Just in case you're interested – this is what mine looks like 🙂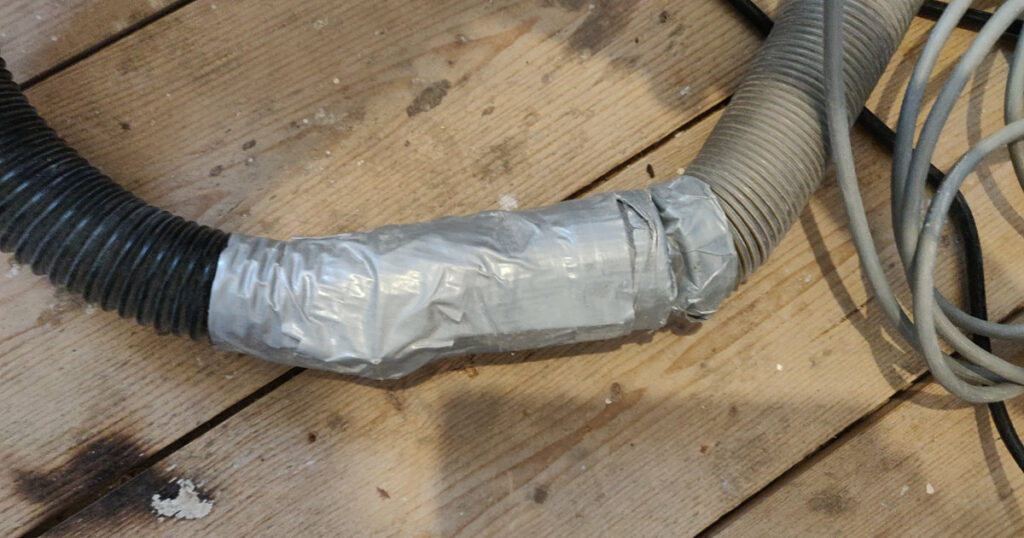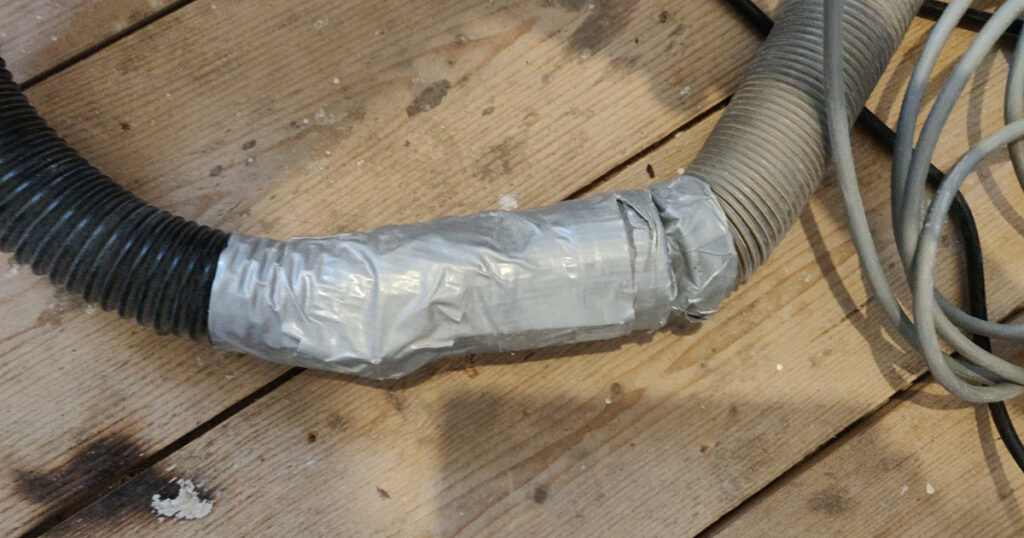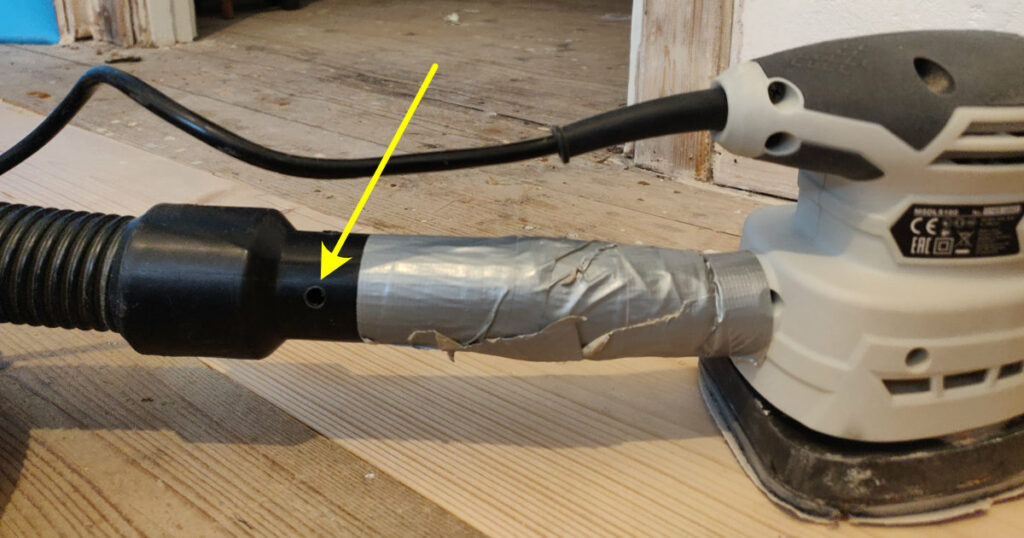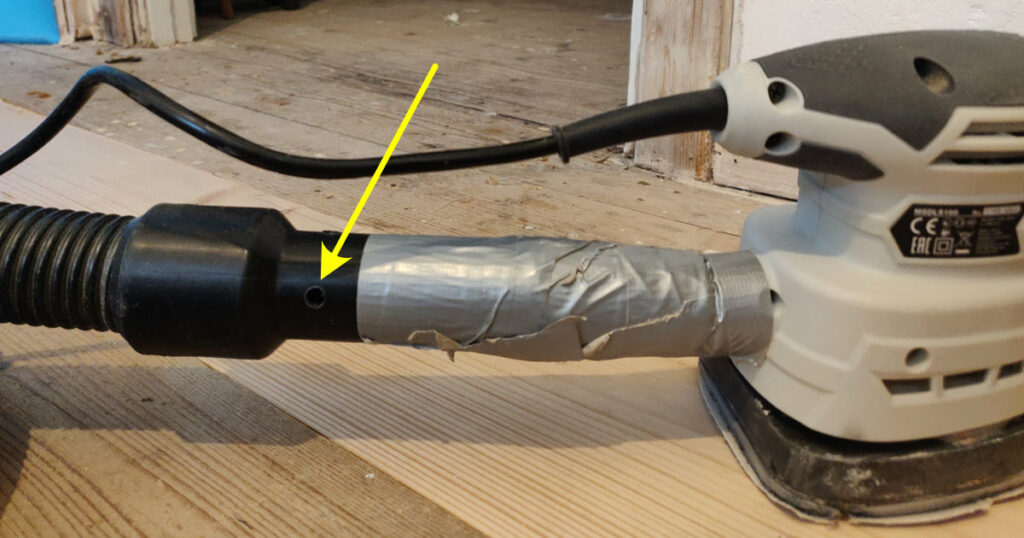 Why Not Use Your Home Vacuum Cleaner?
Technically, you probably could. But, remember, if you're sanding plaster in particular then the dust from this is extremely abrasive. Indeed, plaster mix often contains particles obtained from volcanic rock. If your home vacuum cleaner is a bagless design you may be tempted to use it. The abrasive dust spinning around the cyclone chamber is going to scratch the inside of the clear plastic chamber and make it look worn and horrible. If you don't mind your household cleaner looking this way then you can use it by all means. For the price of a second hand Dyson DC07 though I wouldn't…
Also, there's the issue of dismantling the hoses again to use around the house. They're covered in duct tape in my example – and unattaching all that duct tape takes time and energy. And sticky residue.
A second vacuum for the purpose of extracting the dust from your DIY projects is definitely recommended in my opinion.
Conclusion
By all means substitute your own desired brand of vacuum in place of the Dyson, but do bear in mind that to be successful at properly extracting the dust it's going to need to be able to filter to around 0.1 microns or better. 0.5 microns such as the Scheppach dust extractor is demonstrably not good enough (so this means most bagged vacuums won't be suitable).
Personally, I'd stick with the Dyson – I know it works. My system is bodged and looks crappy. But it works and works well. And even including buying a second hand vacuum cleaner it's going to cost less than £75.00